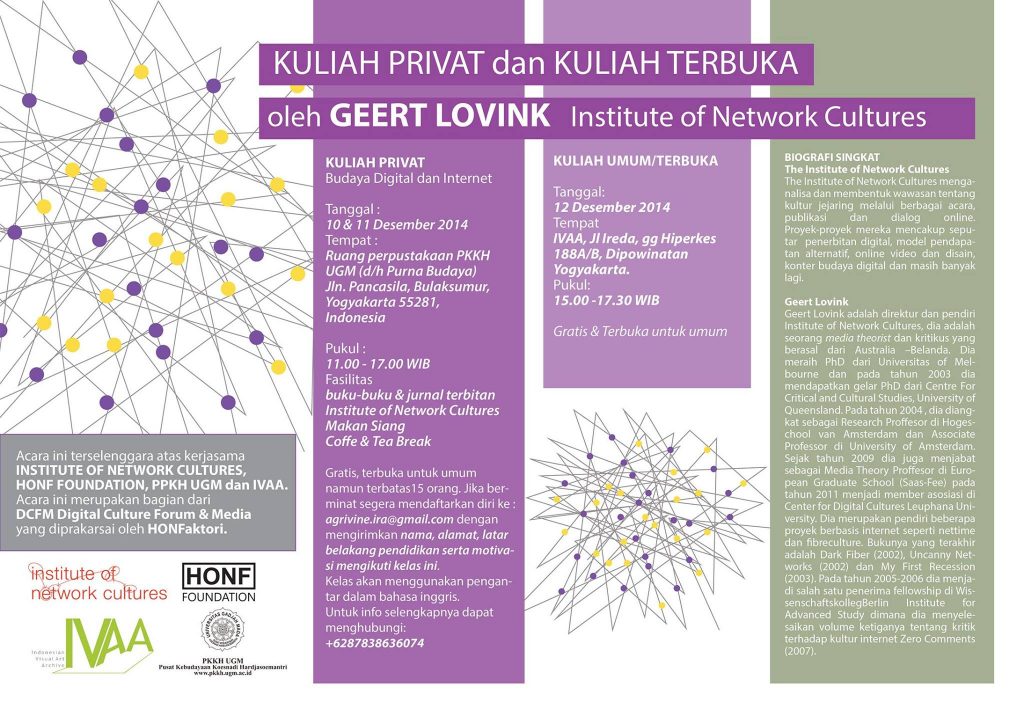 Geert Lovink from Institute of Network Culture, Amsterdam, The Netherland came to Yogyakarta to give 2 days master class on digital culture at PKKH Gadjah Mada University, Yogyakarta. 2 days master class presented by HONF Foundation, part of Digital Culture Forum and Media (DCFM) by HONFactory.
2 days master class lecture on Internet & digital culture that held at PKKH (Pusat Kebudayaan Koesnadi Hardjasoemantri) attended by 15 enthutiasted registered participants follows 6 hours session on each day with one hour break for lunch and coffee.
About Geert Lovink
Geert Lovink, founding director of the Institute of Network Cultures, is a Dutch-Australian media theorist and critic. He holds a PhD from the University of Melbourne and in 2003 was at the Centre for Critical and Cultural Studies, University of Queensland. In 2004 Lovink was appointed as Research Professor at the Hogeschool van Amsterdam and Associate Professor at University of Amsterdam. Since 2009 he has been a media theory professor at the European Graduate School (Saas-Fee) and in 2011 he become an associated member of the Center for Digital Cultures at the Leuphana University. He is the founder of Internet projects such as nettime and fibreculture. His recent book titles are Dark Fiber (2002), Uncanny Networks (2002) and My First Recession (2003). In 2005-06 he was a fellow at the WissenschaftskollegBerlin Institute for Advanced Study where he finished his third volume on critical Internet culture, Zero Comments (2007)
About The Institute of Network Culture
The Institute of Network Cultures (INC) analyzes and shapes the terrain of network cultures through events, publications, and online dialogue. Our projects evolve around digital publishing, alternative revenue models, online video and design, digital counter culture and much more.
The INC was founded in 2004 by Geert Lovink, following his appointment within the Amsterdam University of Applied Sciences. A key focus is the establishment of sustainable research networks. Emerging critical topics are identified and shaped in a practical sense. Interdisciplinary in character, the INC brings together researchers, artists, activists, programmers, designers, and students and teachers.
The Master Class is incorporated HONF Foundation & The Institute of Network Culture.
Thanks to: PKKH (Pusat Kebudayaan Koesnadi Hardjosoemarmo)