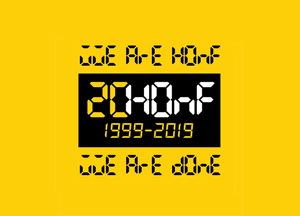 20th Anniversary of HONF Foundation
1999 – 2019
January – March : Incubation
April – December : Activities, Events, and Festivals
HONF Foundation evolved from a media arts center to open culture and technology laboratory with complex network of relations to the formal and informal institutions of knowledge, but also local and global open communities. Creative practitioners of different backgrounds, including artists, scientist, activists, designers, hackers, makers, etc involved at HONF's projects and demonstrate how science and technology are used to respond to various local challenges and critical issues. The scientific research from different disciplines is transformed into public interactive works using DIY (Do It Yourself) and DIWO (Do It With Others) methods, which have aesthetic as well as educational and social goals. HONF also functions as a cultural laboratory connected to similar networks both regionally and globally and working under their own curriculum called Education Focus Program.
In the beginning… HONF itself since 1999 concentrating on the principles of critique and innovation. Thinking forward, positivity and creativity have become the vision for HONF. In the implementation of this vision, in every program, they work towards the development of art, science and technology for the society. By this vision HONF initiated Education Focus Program (EFP), a curriculum which acts as the guideline for every HONF activity that is created to respond to the global situations and conditions in Indonesia. EFP concentrates on interdisciplinary knowledge exchanges and collaborations in critical analysis towards local and global issues and creating innovative ideas to seek solutions for them. EFP's main objective is to build a modern mind and mentality of society by bridging art, science and technology that is useful in processing local potentials into beneficial outputs for the society based on human uses and urgent needs.
HONFablab :
POP UP Lab
FABKids
Transformaking
Residencies
Experimenta
CELLS_chitecture
HONFactory :
Cellsbutton
HONF Media
DCMF
HONF Records
Citizen Class
Residencies
v.u.f.o.c :
SETI Festival
UFO Seminar
Space Exploration
DIY Radio Astronomy
HONF Gallery/Space :
Exhibitions
Collaboration Works
Community Networks
…which explore the interaction between life, art, science and free technology in both practical and aesthetic ways. HONF projects not only reflect the tremendous impact of communication media and other technology on social and natural environments in Indonesia and worldwide, but they also provide scenarios for alternative futures and innovative solutions….
WE ARE HONF
WE ARE DONE
ENJOY !